Endri Dani
---
Endri is an experienced computer engineer and a technology enthusiast mainly focusing on automation, providing smart solutions and generating data driven insights. Endri graduated in computer engineering in Istanbul and for the last 7 years has been professionally contributing in the private and public sector of Albania. His work can be noted in various experiences, starting from freelance assignments to being part of committed developer teams and complex projects.
For almost 3 years Endri has been part of the Albanian Parliament as an informatics developer working on projects regarding computer networking. He has also worked in private companies as a web developer helping the local Albanian businesses by providing software solutions.
Endri has been involved in projects in the field of Fintech by using advanced technology and data science. Currently he works in the banking industry as a data engineer and is responsible for developing data processing tools and providing analytical solutions. "I take pride in being part of the software engineer's community because I can notice the way it has helped me build my character and problem-solving mentality. It is an ever-evolving industry and I have to regularly challenge myself to be considered competent." Endri is always seeking professional improvement and signing up to comprehensive resources. This is his next big challenge.
Host Institution: Inbenta, Sunnyvale, CA
Erida Curraj
---
Erida Curraj is a consultant and knowledge broker working with diverse actors from business representatives to higher education managers and academics.
She is a good connoisseur of the business sector dynamics gained through more than 15 years of professional experience at national, regional, and international levels, mainly in Europe and China. Drawing from diverse fields of practice throughout her career – innovation designer and architect, product design and development, human-centered design, business strategy, organization change, research, and learning – she blends in one both business and academic profiles. She has a deep outstanding working with European Commission and Western Balkan's projects mainly focus on education and youth. She has graduated with excellence as an Architect from the Polytechnic University of Tirana and holds a Doctorate Degree in Industrial Design, a Joint PhD Programme between Ferrara and Polis University. Her doctoral research project explores the transformation of home furniture design and development process from first step of industrialization to mass customization in Albania.
Currently, Erida works as an innovation designer and consultant for various local and international entrepreneurs investing in Albania. In addition, she is teaching since 2016 at two universities, the master course in Product Development, and Brand Strategy at the Department of Art Design at Polis University, and Design, Studio 5 and Research Methodology and Professional Ethics at Polytechnic University of Tirana, by using advanced teaching techniques and motivate students to approach better to the market and practical activities.
Ms. Curraj is a critical thinker, a challenger and success-driven person with excellent creativity skills and strategic foresight.
Host Institution: University of Arizona Center for Innovation, Tucson, Arizona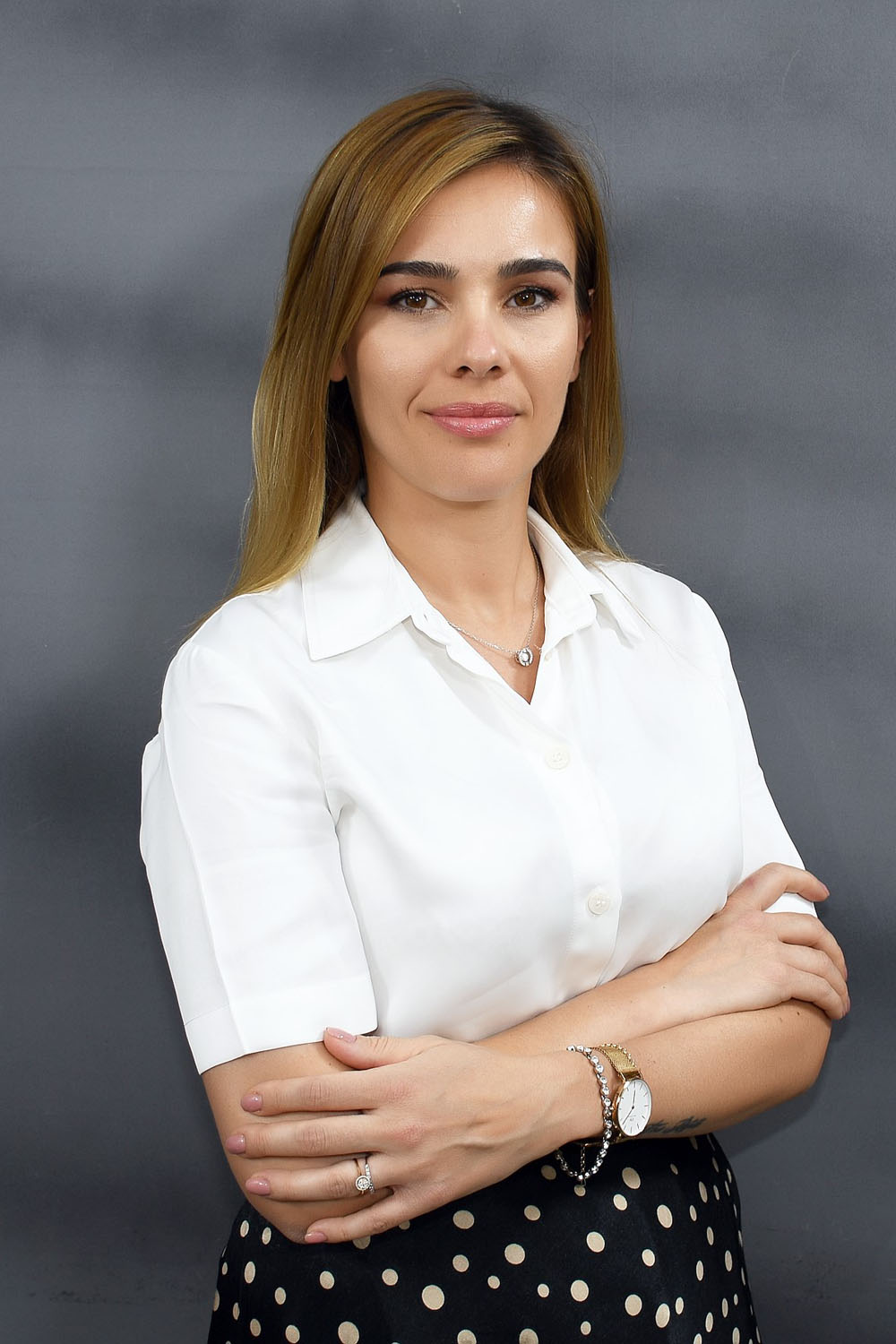 Evisa Kushi
---
Evisa is insightful Banker with over 10 years of experience in the field of loans credit analysis, customer relationship management, project coordination and business product developments. She currently holds the position of Deputy Manager at Business Marketing Department in BKT, one of the Largest Banks in Albania. She graduated with outstanding results from University of New York Tirana in 2011 with a bachelor degree in Finance and later successfully completed the Master Degree in Business Administration and Entrepreneurship from University of Tirana.
Her banking career started 11 years ago when her esteemed professor, selected her, as an outstanding student, to conduct the internship at the Bank, in Credit Department, one of the most important units in the Bank. During the first 5 years of her career she was focused more on credit eligibility analysis, financial statements analysis, conducting sector financial expertise and compliance analysis with Bank Regulations for corporate customers applying for a loan.
Now, for almost 6 years, she has been focused in Bank projects that will help businesses cope in the rapidly changing digital banking world in all economic sectors including public entities by designing and offering new Bank products and services such as loan products and payment services to corporate customers. In addition, her project management duty includes also drafting of Bank policies and regulations in compliance with new regulatory framework of Banking system. Evisa serves as project coordinator within the Bank's different units in projects for new products and services designation in banking sector. She is the responsible person for supporting the implementation, help the development team to deliver by collaborating in designation and user tests. For example, she has managed successfully launching of online payments such as Salary Payments, Tax Payment, Bulk Payments, Utility Payments in online platform for business customers and issuing. With the emerging of new financial technologies, she is very eager to learn new ways of banking. Her moto is: "Do the best of what you can do and always keep an eye on self-improvement".
Host Institution: AON, Chicago, Illinois
Helga Sallaku
---
Helga has over 15 years of working experience in the field of Information Communication and Technology (ICT) contributing in its development in the city of Shkodra, and beyond, around Albania. She is graduated in Informatics, holding first the bachelor degree at the University of Shkodra "Luigj Gurakuqi" and later she owned the title of Master of Science in "Information Systems - Informatics", completed at the Faculty of Natural Sciences of the University of Tirana.
Helga is currently an ICT Lecturer in the Department of Mathematics, Session of Informatics, in the Faculty of Natural Sciences at the University of Shkodra "Luigj Gurakuqi", having a long experience in the field of teaching at the university level since 2008 and in designing and managing professional study programs at the pre-university and university level, within the assessment methods with the integration and support of digital tools.
For 13 years, she has been the head of the Communication Information Technology sector in the Municipality of Shkoder, a period which has contributed in her professional growth expertise in local government level and e-government procedures delivery automation.
Her intellectual and professional training is followed by dozens of certificates, diplomas and awards in the field of informatics and teaching in ICT, being added recently in the past two years the Scientix Ambassador title, awarded form the academic network of the European SchoolNet Academy as one of 8 representatives of Albania.
At the same time, Helga is a passionate innovative young woman entrepreneur engaged in the development of two successful startups in Shkodër, in the field of professional training and software development. She is always seeking to gain foreign expertise and active in establishing international cooperation in the field of innovation, higher education, STEM education and business development.
Host Institution: University of Arizona Center for Innovation, Tucson, Arizona
Inva Hasanaliaj
---
Inva is a journalist since 2015. She holds a master's degree in journalism from Falmouth University (England) and a BA in Public Relations and Communication from the European University of Tirana (Albania). She was part of "Faktoje" organization as a fact-checking journalist for more than 4 years while her previous experiences as a journalist include the fields of economic, political, and investigative journalism. Initially, she worked for the newspaper "Mapo" where she addressed economic issues.
She was also part of the "Investigative Reporting Laboratory" supported by the US Embassy in Tirana. Inva is certified in several areas of communication on topics such as: "Participation in the construction of alternative media", "Participation in the European Academy for Journalists of the Joint Center for Albania-Serbia Relations" etc.
Her areas of expertise are fact checking and media consulting.
Host institution: III (Integrity Initiatives International) Boston, MA.
Kristiana Filip
---
Kristiana Filip is a legltech entrepreneur, startup enthusiast, podcast host and corporate solicitor. Kristiana is the founder of the first Albanian legal-tech company, Legit, which aims to be the go-to legal platform for the support of entrepreneurs, freelancers, and businesses in the conduct of their day-to-day transactions, compliance and getting legal services. She is an experienced lawyer with a demonstrated history of working in the legal services industry as a legal associate in law firms and NGOs. Her main areas of expertise lie with business law, concessions and public-private partnerships, employment, and arbitration, and recently startups, mainly tech startups. She has solicited transactions for numerous local and international companies from Switzerland, Austria, Germany, Italy, UAE, Turkey, Canada, India, etc, and has advised and represented public institutions in Albania and Kosovo.
Kristiana has a diverse legal education and training -holding a Master's Degree in Corporate Law from the University of Cambridge, and a Master's of Science Degree in International Business and Commercial Law from the University of New York, Tirana.
She also has developed her business acumen and commercial awareness by being involved in various entrepreneurship and innovation programs in Albania and Kosovo. She is highly curious and passionate about entrepreneurship and start-ups, education and employment, digitalisation and enterprise-tech.
Hosting company: Plug and Play, Sunnyvale, CA
Mikel Pepaj
---
Mikel is graduated with a bachelor degree in Environmental Engineering and also has a master of science in Energy from the Polytechnic University of Tirana.
He worked as na engineer for around five years in different positions from public sector to private companies, in this time he mostly worked as a Cartographer, initially at the "Project of First Registration and Update of Cadastral Maps" funded by the World Bank, and now he has been working for around two years at the First Registration of Coast Areas Sector at Digital Cadastre Center in Tirana, facings many challenges regarding the 30-year problem that Albania have with real estate.
He always is trying to learn new things from participating in trainings, taking courses and stacking skills through working in different fields of engineering, as he also worked as a Supervisor of Pump Stations at the Water Drainage Board in Lezha, as a Manufacturing Process Engineer at Metal Construction Vata in Laç, and as Energy Auditor at Zero Energji Studio.
He also volunteered as an Expert in damage evaluation of building structures in Laç after the 2019 earthquake that hit Albania.
He likes reading, running, playing football, hiking and exploring new places where he is part of a hiking community in Tirana and also part of Scout Tirana.
Host institution: U.S Green Building Council, Washington DC
Safi Alickaj
---
Ms Safi Alickaj is a technology enthusiast with an extended IT background and more than 7 years of experience in both private and public sector.
She completed her Bachelor and Master studies in Information Technology at the Faculty of Natural Sciences, University of Tirana in 2016.
During her master's studies she worked as an IT Technician near a private company and directly after graduation she started working as an IT Specialist at National Territorial Defense Inspectorate a position in which she had to administrate the Inspectorate's Network. In September 2018 Safi became part of National Agency of Information Society having responsibility for hardwares, softwares and any project in Technology that National Territorial Defense Inspectorate had. In this position she worked on various projects. One of them was Online Inspection ,a project that was developed in 2 phases. During the first phase Safi had the task to issue the technical requirements and adapt them to the form that will be implemented in the software and also to test all the functionalities, to ensure that the processes were developed according to the workflow determined by the institution. In the second phase She was responsible for technical support, in person or remotely for all 12 regional offices and the central office in Tirana for various problems that users may encounter while using the system. At the same time, Safi had to train the inspectors of 12 Regional Directories of the National Inspectorate of Territorial Defense to use the system.
Another project that Safi worked on is the initiative taken by the Albanian Government to provide all services online so that citizens who want information or have requests for Albanian institutions can already do it online in the system of "E-Albania" no longer waiting in line to receive the service. Her responsibility in this project was to identify the services that the National Territorial Defense Inspectorate provides to citizens and prepare them for implementation in "E-Albania". After implementation she had to test the system and report to the development company for problems. In this way Albanian citizens receive the service required by the National Territorial Defense Inspectorate in real time. Those projects helped her develop more analytical thinking and training skills. Outside of work, she enjoys traveling, hiking and watching movies.
Host Institution: ESET North America, San Diego California.