Elda Isakaj
---
Elda Isakaj's drive, passion, and analytical mind make her ideally suited for the Information Technology profession. Elda has 5 years of combined experience in the fields of Information Technology and Information Systems Management. She holds a Bachelor degree in Business Informatics with focus in Management Information Systems and also a Master of Science degree in Information Systems in Economics from University of Tirana.
Elda joined Tirana Court of Appeal in May 2016 as an Information Technology Specialist, providing strategic oversight and leadership for the continued development of an innovative, robust, and secure information technology environment throughout the Court.
In addition, Elda has conducted numerous researches and took part in execution of a number of projects (ICMIS and ForTheRecord System projects) in collaboration with EURALIUS and USAID, which have proved to be critical in her career development.
Prior to joining Tirana Court of Appeal, Elda worked at Jehona Software shpk where for a short time she had the opportunity to be a key staff in implementing several projects and as a Management Information System Specialist at Megatek sha, where she assisted in the administration of all Line of Business (LOB) applications of the company. Her first professional experience was a four months intership at the Ministry of Economic Development, Trade and Entrepreneurship, in the Statistics and Information Technology Department as an IT Specialist.
Elda's long-term goal is to expertise in Management Information Systems so she can increase herself as an asset to the information industry and to be a fundamental part of the powerful technological workforce of her country.
---
Ina Gjika
---
Ina Gjika is a committed professional in the fields of banking, finance and economics. She has been working for four years at ProCredit bank, part of the German development-oriented financial group. She has held several positions such as: Client Advisor for private clients, Client Relationship Manager for medium and large businesses and currently, she works as a Credit Risk Specialist for medium and large exposures. Ms. Gjika is also a CITF candidate (Certification for the International Trade Finance), as an EBRD scholarship recipient.
She has successfully graduated from the three-year Management Programme in Furth, Germany, an executive track within the ProCredit banking group, designed to be attended by a strictly selected number of employees with managerial potential.
She holds a double BA degree in Business Administration and Political Science and International Relations and a Minor in Economics, from the American University in Bulgaria, where she graduated with the highest distinctions. Ms.Gjika also worked as a Teaching Assistant for the Corporate Finance and Business Ethics courses, as well as a Writing Tutor. She has been an active member and organizer of the Model UN simulations, and an Organizational Committee President at the Outgoing Exchange Functional Area, in the international student-run organization, AIESEC.
She is a scholarship recipient at the Youth Exchange and Study (YES) program– a program sponsored by the US Department of State. As part of the program, she spent a high school year in the USA, living with an American host family and engaging in local community service. After returning to Albania, she served as a YES Alumni Coordinator for the Albanian YES Alumni and has been actively volunteering in organizing different youth - targeting projects. Ms. Gjika is highly interested into the sustainable development topics, seeking to specialize in the Economics of Development field and further contributing in the Albanian development.
Her extra-curricular interests include freelance writing, reading non-fiction books of politics and philosophy, as well as travelling and experiencing new cultures
---
Klaudio Prifti
---
Klaudio Prifti is an experienced specialist of Digital Banking with a demonstrated history of working at Banka Kombetare Tregtare, the biggest bank in Albania. Skilled in project management, business statistics, finance and accounting, he holds a Master of Science in Finance from University of Tirana. He has also worked as a part-time adjunct lecturer at Faculty of Economy, but he is also very eager to learn continuously. Klaudio is a perfectionist and a winner striving for excellence, in his free time he loves books, football and PlayStation."
---
Ledion Lico
---
Ledion Lico is a highly experienced IT professional and researcher. He actually works as the IT director of Gener 2 Group, one of the biggest companies in Albania that operates in Construction, Retail, Real Estate, Media and Telecommunications. He has managed several important projects including planning and implementing IT Systems for big shopping centers and TV stations (CNN affiliate) with new and advanced IT technology. His last two projects are: implementing Smart Home and Smart Building Technology for a 700+ apartment project and implementing a new advanced Enterprise Resource Planning (ERP) system for the group. Working in very diverse lines of business, he has deep knowledge of various business IT processes and platforms.
His passion is Data Science and he is fascinated by the power of the hidden information that you can get from Big Data. He is a published author of several papers in the data mining and Business Intelligence (BI) areas. In addition to his experience in IT, he also works as a Lecturer in the Polytechnic University of Tirana teaching interesting and innovative subjects like Programmable Electronics.
He can also be found on bike rides or running in the Grand Park of Tirana.
---
Mateos Shehu
---
Mateos Shehu is a young architect and urban planner with professional experience in regional and local development, strategic investments, and urban policies. Upon graduation, Shehu began working for the public sector where he was involved in projects of different scales which ranged from the partitioning Albania into regions to the planning of "micro spaces". He completed his bachelor's and master's degree with the highest honors at Epoka University and has since directed his area of research towards innovative computational methods for solving urban problems. Currently, Shehu works at the municipality of Tirana where he is responsible for creating GIS services.
---
Megi Shuke
---
Megi Shuke has studied Informatics at the University of Tirana. During her studies, she has also been part of an international youth organization-AIESEC, at first as a member, then as a local Vice-president and finally as President.
Megi has always had a passion for teaching which has led her to many short-term experiences in Europe, as well as one-year teaching in Ho Chi Minh City, Vietnam.
She is currently teaching coding at a private school in Tirana, her future plans are to study Educational Technology in the United States.
---
Rezarta Myrtollari
---
Rezarta Myrtollari started her career at the National Institute of Statistics, first as a specialist in National Accounts and later as head of sector for Data Integration and Analysis, responsible for estimation of macro-economic indicators and administrative and statistical data integration and processing. Exposed to several training courses and programmers, she developed an interest in the usage of data analytics for better business intelligence and decision support. Currently Rezarta is working for one the UN agencies in Albania.
Rezarta graduated with a bachelor in Business Informatics where she was awarded "One of the ten excellent students" and a master of science in Information Systems from Faculty of Economy at University of Tirana. During this time, she was selected to be part of the project "Academic Exchange for Progress" where Rezarta had the opportunity to study for a semester at Norwegian University of Science and Technology.
---
Rudina Breçani
---
Rudina Breçani is an Albanian architect, awarded by Epoka University as the best graduating student of the Department of Architecture for the class of 2017. She has cultivated her academic proclivity by engaging in scientific research in her spare time and in the two years since graduation she has managed to present in two of the most respected building simulations conferences worldwide - IBPC 2018 in New York and IBPSA 2019 in Rome - among others. Additionally, one of those researches has been published as an original contribution in a high-impact factor international journal: Sustainable Cities and Society, which publishes applied studies with focus on environmentally sustainable and socially resilient cities.
Having always been drawn by all the different facets of her profession, she has previously been employed in the public administration sector as an urban planner, worked as a graphic designer, and surveyed cultural monuments as an intern. Currently she is exercising her diploma as the head architect in a private company in Albania, coordinating projects from building design to strategy drafting in the city and national scale. Simultaneously, she will represent Albania in the 2020 Venice Biennale of Architecture as part of a four-people team with a pavilion and the corresponding research under the overall exhibition theme of "How will we live together?".
---
Akil Sokoli
---
Akil Sokoli is a MIP fellow, currently pursuing Preservation Studies at Graduate School of Arts and Sciences in Boston University, MA.
He was born in Shkodër, Albania, in 1981. He received a diploma degree in Architecture from the Polytechnic University of Tirana, Albania, in 2004, a Joint Master double degree in International cooperation and Urban Development with Specialization in Economic development from the Technic University of Darmstadt, Germany and Tor Vergata University of Rome, Italy, in 2012.
In 2004, he joined the Department of the Regulatory Plan, in the Municipality of Tirana, as a Specialist in Urban Planning. In 2008 he was part of the team winner for the design of the Master Plan of Tirana which was approved from the City Council in 2010. From 2009 to 2010 he has been a lecturer in the Polytechnic University of Tirana, Faculty of Architecture and taught topics in Urban planning History and Theory. In 2010 he left Albania to pursue his master studies funded from Erasmus Mundus Scholarships in Germany and Italy.
After his return in his home country he continued working for the Municipality of Tirana, in the Department of Transport and Mobility. He worked for the very new project founded from EBRD (European Bank for Reconstruction and Development) to ease the traffic congestion in the city of Tirana through the integrated and remotely controlled system of traffic lights, message boards and CCTVs.
His current research interests include architecture conservation, urban planning design, photography and cinematography.
Enri Dervishi
---
Enri Dervishi is a MIP fellow, currently pursuing an MBA at Bentley University, Waltham, MA. He has finished his Bachelor and Master studies in Business Informatics. He has 5 years of experience in entrepreneurship and management in e-commerce, including the launching of a venture for the German giant Rocket Internet. In addition, he co-founded Movida.al an e-commerce platform operating in Albania and Kosovo. Enri has an entrepreneur mindset and is very eager to undertake new challenges at both educational level and professional life. 
Henrik Lezi
---
Henrik Lezi currently is a MIP Fellow, currently pursuing an MPS in Branding at School of Visual Arts in New York, NY.
He discovered his desire for graphic design by creating album covers for music CD's since his college days for his friends. Having studied Social Sciences in Albania and working in a high paced environment such as journalism, Henrik is driven by the desire to create solutions to social issues through design and research. In the last decade, he has chosen to specialize his work in the non-profit sector with clients such as United Nations, UNICEF and Council of Europe. Working on campaigns for non-profits brought all of his experience, including those in journalism and social sciences, all together. By applying editorial design principles to these organizations' print mediums, Henrik has helped in expanding their audience and elevating their communication channels.
Henrik believes that the MPS in Branding will give him the opportunity to structure all his previous skills and at the same time bring new and exciting uses back in his country. His interest in progressing brands in a new and underdeveloped business environment such as Albania is the reason, he has enrolled in SVA's Master in Branding. After finishing the program at SVA Henrik is planning to go back to Albania and serve local brands to better connect with consumers and compete internationally.
Ina Yzeiraj
---
Ina Yzeiraj is a MIP fellow, currently pursuing a Master of Public Administration with a concentration on Education Policy at Cornell University, part of the Cornell Institute of Public Affairs, NY.
Ina has a Bachelor's degree in Psychology from LCC International University. She then continued her career as a Guidance Counselor at Lezha Academic Center; working with K-12 students, but with a major focus on High School seniors and their career counseling.  She got further experience in counseling and mentoring at "Çelesi Im" Counseling Center, where she broadened her connections with K-12 schools and students. Finally, before becoming an MIP fellow and starting her graduate school, Ina served as the key person and built the Admissions Office of LCC International University in Albania; overseeing the Albanian and Kosovo Admissions.
Klodeta Janaqi
---
Klodeta Janaqi is a MIP fellow, currently pursuing an MBA Data Analytics at Brandeis University, Boston.
She is a financial and commercial planning analyst with approximately 4 years of experience in telecommunication sector. She received her BSc. in Finance Accounting and MSc. in Finance from University of Tirana where she graduated with honors. Five years of university studies formed the basis of her perseverance towards achieving in-depth knowledge in business and finance. Due to excellent results during her studies and great willingness to share experience and knowledge, she started to teach Introduction in Financial Modeling and Modern Investment Theories classes. On the other hand, she lunched her professional career in banking sector working for National Commercial Bank as an assistant analyst in Corporate and Commercial Credit Department. After one year she joined Vodafone Albania where she constantly exceeded goals over the years. She was awarded as top performer for her contribution in loyalty scheme valuation, financial impact model for IFRS changes and a substantial increase of automatization in business model. When she is not glutted to a financial model, she spends time playing tennis, chess and piano or probably finishing to read the book she started before starting the financial model. Recently, she found out that a specialization in financial modeling and big data analysis will improve her productivity and creativity. Therefore, she currently is pursuing an MBA – STEM designed at Brandeis University located in Massachusetts.
Lorela Lazaj
---
Lorela Lazaj is a MIP fellow, currently pursuing a Master of Public Administration at the Maxwell School of Citizenship and Public Affairs, Syracuse University. She was born and raised in the southern part of Albania, in a small coastal city called Vlora, where the nature landscapes, it's wilderness and diversity are hard not to be appreciated. Always attracted by the nature, she followed her studies on "Environmental Biology" for five years at the Faculty of Natural Sciences in the capital city and right after she worked at a local organization committed on environmental education and sustainable economic development called "Auleda, Local Economic Development Agency". 
One year later, in April 2014, she starts working at the "State Inspectorate of Environment, Forestry and Water", a public institution created then for the first time aiming to address the problematic of law enforcement.
In 2015 she was nominated to be part of the new team of the Agency of Protected Areas in Albania as the director of the Regional Administration of Protected Areas Vlore. This institution was established for the first time in Albania in February 2015 and it will represent a new era on the management of the protected areas in Albania. In addition, together with her team, they evaluate new areas in Vlora region that should be protected, they maintain Fauna and Flora inventory, work towards the conservation of natural habitats, organize and promote sustainable activities within Protected Areas and develop an education program regarding nature protection.  
She has participated in intensive capacity building programs on Sustainable management of Protected Areas in USA organized by Center for Protected Area Management (CPAM) at Colorado State University (CSU), together with the U.S. Forest Service. In 2015 she has been awarded a full scholarship for a Master of Science in Geoinformation in Environmental Management, at the Mediterranean Agronomic Institute of Chania where she successfully completed the first year of the master of about 60 credits. Together with her colleagues are promoting Protected Areas as fundamental systems for nature and biodiversity conservation, but at the same time, having in mind their touristic potential and the possibilities for sustainable and eco-tourism development, they are trying to promote specific and very well-defined activities that can be implemented in these areas. 
Romina Damini
---
Romina Damini is a MIP fellow, currently pursuing a Master in International Development Policy at Duke University, NC.
She has attained a MSc Degree in Civil Law and has been awarded a Scholarship of Excellence and Merits from Konrad Adenauer Foundation. She started her career as part of University "Aleksandër Moisiu" in lecturing Environmental Law and Transport Law for two years. Later on, she joined Faculty of Law, University of Tirana, contributing to Civil Law Department as a lecturer of Obligation and Contract Law. She has most recently worked as a legal specialist for the Ministry of Infrastructure and Energy and has been involved in a Project of Deloitte and U.S. Department of State in Technical Assistance on Albania Hydrocarbons Sector Oversight and Tenders. Also, she was key expert in CEFTA project "Report on Legislation and policy Measures in the sector of E-commerce in CEFTA Region", the overall objective of which is to facilitate the process of launching a regulatory dialogue for further developing e-commerce in the CEFTA region in compliance with the EU legislation.
In addition, she is very motivated in consumer protection in Albania and has served as consultant in several projects, mostly organized by GIZ. Ms. Damini has attended many conferences, workshops and trainings, mostly abroad, and she is author of several scientific papers in international journals. She is a motivated and driven young professional committed to advance her expertise in the field of energy and PSC Contract and contribute to Albania's development.
Selim Blliku
---
Selim Blliku is a MIP fellow, currently pursuing an MBA in Strategy & Innovation and Data Analytics (STEM-designated) at Brandeis University, Boston.
He currently holds a MSc. in Business Administration at the University of Tirana, Albania, and has 3 years of experience in Consulting, University Teaching, and Management. Prior to his Masters graduation he started working at Deloitte Albania offices as a Consultant concentrated in agricultural business clients for almost 2 years. After his graduation, in 2016, he started a teaching position as a Guest Lecturer in the Management Department, Faculty of Economics. From 2018 he worked at ERA 2000, a large hospitality Albanian company, as an Operations Manager focused on the improvement of overall systems and processes within the organization.
His goals are focused in helping drive strategic changes in organizations and public administration systems in Albania. Upon his return, he also aims to encourage, guide and support schools, universities and youth to adapt a strong entrepreneurial culture.
Sonila Hasaj
---
Sonila Hasaj is a MIP fellow, currently pursuing a Master of Economic Development (STEM Designation) at Vanderbilt University, Nashville, Tennessee.
She holds a Master of Science Degree in Finance, from University 'Luigj Gurakuqi' Shkoder, and in the past 3 years is working as a finance manager and data analyst-field based researcher at GO2 Sustainable Urban Planning Organization (grassroots NGO). During her engagement with GO2 she held key roles in managing several local and national projects related to sustainable tourism and sustainable urban planning issues (public services, urban mobility, public spaces) helping her to understand the territory in the economic, social and environmental approach.
She is a winner of the 2nd prize of the VIth international competition held annually by Leibniz Information Center for Economics (Kiel, Germany) demonstrating a real proficiency in research skills. Sonila was awarded the 3rd prize of the annual workshop "Challenges of Regional Development 6", organized by University of Shkodra, Albania, while in 2015 she was attributed merits of excellence from the same university for the highest results in Bachelor studies at the Faculty of Economics. 
Upon her return in Albania, Sonila aims to create her own entrepreneurship in her hometown, Shkoder, to incorporate data-driven decision-making culture as the main tool of credibility and transparency to measure progress in different fields.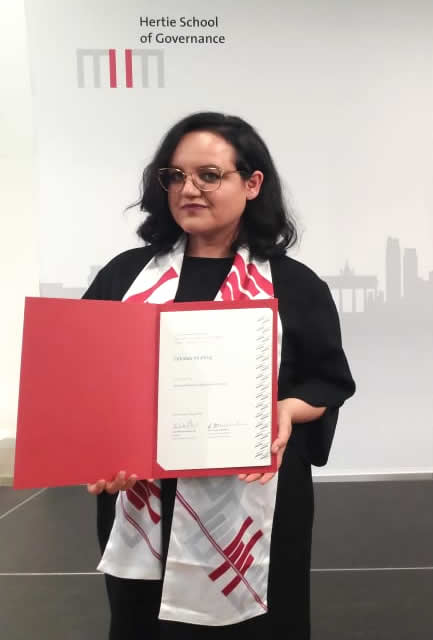 Orkidea Xhaferaj
---
University: Hertie School of Governance, Berlin, Germany
Master Program: Executive Master of Public Administration (Executive MPA) Program 2017 – 2018